"It is impossible to manufacture or imitate love."
With Harry Potter becoming a popular theme for weddings I jumped at the chance of being involved in a photo shoot to challenge my creativity and make something unique for the ultimate Potter fan.
I used all the traditional colours of dark shades of reds and purples and felt that parchment paper would provide a "period" feel and the pale gold provided the "magical" element.
Extra information inserts such as the RSVP cards have been printed in each of the houses and the invitation has been wrapped with ribbon and then sealed with a
gold wax imprint of Hogwarts.
As well as invitations I made cute little magic potions bottles, tied with twine and a Menu scroll.
The shoot, which took place at the beautiful venue Elmore Court, was arranged by Ellis from Aisle Hire it and photographed by Caroline Potter and was featured recently in the Plans & Presents Blog so if you'd like to view the rest of this unique shoot just click on the link.
 2017 Metallic Trend
Incorporating metallics into your wedding is a lot easier than you think! If you're going for a Steampunk look then industrial metal is perfect, nothing will look out of place but if you're after something more glamorous then you have to be more subtle.
From glitzy fabrics and balloons to metallic cakes and geometrics, you can add a sprinkle of metal magic to your day.
Click to find more ways to add metal into your decor.
Coming soon……
Extra Large Photo albums are being added to my range, with a capacity of holding up to 200 photographs! Made to match with the Guest Books all are custom made to your own requirements and personalised. Each album is also boxed to keep your memories safe for many years to come.
 Until next time……… Sarah x
Introducing the new addition to the Satin Range….
Satin & Lace
These invitations start from £3.50 each, you have the option of having them made with white or ivory pearlescent card and luxury bridal lace and then you have the option of choosing from 80 shades of ribbon.
All prices include personalisation of the front as well as printed matching pearlescent inserts, have your guest's names printed inside at no extra charge and all come with matte coloured envelopes.
These are truly beautiful invitations!

Coming soon……
I was lucky enough to take part in a Harry Potter themed Wedding Photo Shoot a few months ago which has since be featured on the fabulous Plans & Presents Wedding Blog so I'm very excited to share this with you next month! Hear about it first by subscribing to my newsletter.
 Until next time……… Sarah x
Some fantastic news and 2017 Wedding Trends
Award
Paper Memories has been been awarded Best stationery for Hereford in the Three Counties Wedding Awards! Thank you so much to all those who took the time to vote!
Inspiration
If you're getting married this year then you're probably already aware of the current wedding trends and colours. Pantone have named Greenery the colour of the year but it not just about the hue, the growing trend is florals, natural greenery, botanicals and succulents. I've put together a board of greenery inspiration over on pinterest so take make sure you take a peek.
Coming soon……..
An exciting new addition to my "Satin" Invitation range will be launched in March. If you love lace then this is something you won't want to miss! Hear about it first by subscribing to my newsletter.
 Until next time……… Sarah x
Wedding Stationery – To DIY or not to DIY?
If you're thinking of making your own Wedding stationery there is so much to consider before taking the plunge so please hop on over to Tides Events to read my guest blog.
Wedding Ideas Magazine
It was such a lovely surprise to find one of my Wedding Card Post box's and Guest Book among the photographs of Laura & Colin's Wedding featured in this months Wedding Ideas Magazine!
They chose a gorgeous red and blue scheme with classic pearls for their elegant wedding, take a peek at more of their style covered beautifully by photographers www.dennisonstudios.com

September 2015
Our next show…… get your tickets here!
April 2015
If you're not following me on Facebook you would have missed the STUNNING!! photographs of the Diva & Wedding and Events ~Luxe Fairytale~ themed photoshoot I was lucky enough to be involved in. Together with a fabulous collection of Herefordshire Wedding Suppliers, at the beautiful venue of Hampton Court and with the photographic talent that is Marta May the results were amazing. Here are a small selection or to see the entire album follow this link.
If you're peeved you didn't see them first, make sure you never miss out and follow me on facebook
My Satin & Silk Luxury Wedding invitations were used as part of the photoshoot and will be added to the website soon. They are luxuriously made out of pearlescent card and paper, with double satin ribbon (80 shades available) and a little sparkle but at a price you'll love.
If you would like to know more, would like to see a sample in your colour then please get in touch, enquiries@papermemories.co.uk
Well it's been so lovely to see and feel some of that Spring sun so lets celebrate this month with Pantone's Tangerine. Bright and feminine but add a bit of masculinity to even the balance with blue. Check out my pinterest board for other colour combinations and more wedding inspiration.
Yes,!I've left the best til last!
Last year I won the award for Best Stationery in the first Herefordshire's Wedding Awards, being nominated was amazing so to win was just awesome. I have again been nominated in this years awards so if you are a past or present Bride or customer would you please take the 2 minutes it takes to vote for me. I would really appreciate it, and if you have used other local suppliers you can vote for them too in their individual categories.
Closing date is 20th June 2015…… Thank you! x
March 2015
This month has been particularly busy preparing for the fayre at Munstone House. On the outside it is a very pretty venue with lovely grounds and the chance to hold your ceremony outside if you wish and on the inside it is stunning. Having recently been refurbished this venue has a luxury feel to it which every Bride will appreciate combining classic elegance with a modern twist. This fayre was slightly different for me as I wanted to show off some new Wedding stationery, the popular, very pretty and intricate Laser Cut invitations. These are available in various colours and can be made to suit your theme, have them made with brown kraft card tied with twine for a rustic or vintage feel or opt for satin ribbon and pearlescent inserts for a touch of elegance. Fully personalised these are available at just £2.25 each.
If you have a question about any of the products you've seen on the Paper Memories website, please feel free to call us on +44 7580 402807,  contact us, or find us on Facebook
I have decided after a dreary couple of days that Custard will be my next Pantone colour to be featured. It's such a bright and fun colour which will have us looking forward to the warmer weather  to come, Spring is here so enjoy! For more inspiration follow this link.
The Glitter collection has proved to be popular, I'm currently working on some Teal, white and silver invitations which are stunning.  Heidi & Matthew got married this month and they opted for Pink and Gold which, I hope you will agree, looked amazing! The design can be made in any colour to suit your scheme and I am more than happy to put colours together and email you photographs so please don't hesitate to ask.
Shortly after Munstone House I was then involved in a photo shoot, organised by Diva Wedding Fayres at Hereford's historic and beautiful Hampton Court. The theme was Luxe Fairytale and I had the pleasure of making some stationery which I am quite excited about! I will share the end result with you next month but if you can't wait until then why not pop over to my Facebook page, and drop me a like to keep bang up to date with everything happening in my world.
February 2015
The Glitter Collection went on sale 6th February!
I am currently working on some Order of the Day cards which I will be able to show you in the next blog together with a table plan.
The Guest books and lace are available in either ivory or white then you have the option of almost 80 shades of ribbon to choose from so a colour to suit everyone. These are fully customised down to the lace butterfly, with the option of having that in either silver or gold and that's not all, you can have your entire stationery made to match…what more could you ask for?
It's pretty, it's unique and stationery fit for a princess, whether it's for a Birthday party girl, a hen night or a Bride who wants to feel like a Princess on her Wedding day.
Photographs by Marta May Photography
I did mention last month that I would be working on some stationery to match my Guestbooks, having been asked for a Cottage Rose Pocketfold sample I thought I would start there, and this is the end result. This is of course is just one of a variety of ways matching stationery can be made to match the design so I will be offering different options. Having been working on the Glitter Collection I designed the invitation to match, I swapped the Glitter heart for a Glitter butterfly but it can be made with either, it's fun in pastels and can be glamorous in dark colours so the choice is yours.
So another of Pantone's Spring 2015 colours is Glacier Grey, it's cool yet it has elegance and can easily be softened by adding muted colours into your scheme. I'm certainly seeing lots of requests for Guest books and Post Boxes to be made with Silver Grey ribbon so it's a popular colour.
Photo's courtesy of Pinterest
Our next fayre is another one being hosted by Diva Wedding Fayres, this time in the very pretty venue that is Munstone House, Hereford. It's a 2 day event being held on Saturday 21st and Sunday 22nd March, Paper Memories will be there from 11am til 3.00pm on the Sunday.  If you're a Munstone House Bride or have not yet chosen your venue you will be entered into a draw to win a fabulous diamond ring valued at £8,000. Click here to let us know if you're coming….you don't have a reason not to!
January 2015
Wow! We're already at the end of January and so much has happened!
Firstly Pantone released their range of anticipated colours for 2015, some of which were received with a little disappointment. Marsala, being the colour of the Year initially looked quite dull but with a little imagination it can be a STUNNING colour, suitable for winter weddings but would not look amiss in spring and summer weddings.
My first Wedding fayre of 2015 was in the recently refurbished Left Bank situated on the Old Bridge overlooking the River Wye. It's a fabulous location for an urban wedding, offering the whole package from ceremony to reception. The fayre was busy and I spoke to so many couples, most of whom fell in love with The Glitter Collection which is due to be launched 6th February.
Photographs by Marta May Photography
The 1920's inspired "Gatsby" has been so popular it sold out within 2 weeks !! Crazy! But it will be back as soon as I have the materials to make more. Interestingly I was asked to make it in Navy & Gold too, and I've also been asked for silver accents instead of the gold. As always your wish is my command so please don't hesitate to ask if you would like a different colour combination in any of the designs, if I can I will!
Coming soon………."Cottage Rose" Stationery
Welcome 2015!
Lots of exciting things will be happening over the next 12 months but first we have a Wedding Fayre to prepare for at the gorgeous venue that is the Left Bank. It is being hosted by the lovely ladies at Diva Wedding & Events and if you're planning on attending and would like to guarantee a free Goody Bag then you can register here.
Winner of Best Stationery Award!
To be nominated was amazing but to then actually win was AWESOME! It is so nice to see results from all the hard work I put into my business, I absolutely LOVE my job and this is just the icing on the cake when you know people, past Brides and Grooms have voted or you. Thank you SO much 🙂 x
Bespoke Bride
I was lucky enough to work with some other fabulous
Herefordshire wedding suppliers as part of a blush and gold styled
photo shoot which has since been featured on Bespoke Bride!
  Photographs – Saz Chapman Photography
The Vintage Collection
Coming soon………………..!!
Spring Wedding Fayres
We look forward to meeting many Brides & Grooms with their families at the following fayres.
Click on the images for more information and let us know which you will be attending!

Helen & Jonny's rustic Wedding
After being together for 5 years my friends Helen & Jonny decided it was time to tie the knot.
Finding the right venue was important because they needed to accommodate all the various family members who travelled from Helen's hometown of Yeovil in Dorset and Jonny's family coming from across the globe. They discovered Parkfields Country House near Ross-on-Wye, it was the perfect venue, a gorgeous house in beautiful grounds providing plenty of room and that country rustic feel they wanted for their Herefordshire wedding.
Helen wanted to be able to do her own stationery but like many Brides, she knew what she wanted but putting it all together with so many other things to organise was proving difficult so I stepped in to help. I would love to take credit for her pretty invitations and the pearl and floral stationery but Helen designed it all, I simply created it.
The dress was an elegant slim fitting gown in champagne, the small but manageable train embroidered in beautiful delicate detail. The Bridesmaids wore chocolate dresses and each held a bright bouquet of yellow sunflowers hand tied with raffia.
Their wedding rings were bespoke and made by local jeweller Duncan Hill. Helen's engagement ring is antique and an unusual shape so her wedding ring was made to compliment it. Duncan also supplied them both with photographs of the various stages of how each ring was made.
For their reception tables Helen sourced some large clay pots, which were filled with a mixture of sunflowers and gerbera. The pot trays were filled with apples and pears so making a very striking but simple centrepiece for each table.
They managed to get hold of some lovely vintage crates, which were used to stand the wedding cake on and also as a card box, which I decorated with card bunting and lace. Their table plan I designed using an old Herefordshire map, and keeping it rustic we hung the tables on string with mini pegs.
It was only right I should make their Guest Book so this was the only thing I made which I kept secret from them until the day before, I wanted them to have something unique and what was even more special was the fact that I would actually be able to leave a message in this one!
Venue
Parkfields Country House – www.parkfields.co.uk
Suppliers
Wedding Dress, Bridesmaids & Suits – www.ashtonrosebridalcentre.co.uk
Photography – www.serenarobinson.co.uk
Venue décor – www.weddingmeander.co.uk
Rings – Duncan Hill  dunkhill67@live.co.uk
Flowers – www.posiesofhereford.co.uk
Stationery – www.papermemories.co.uk
 Card Post Boxes 
I think going by the gap between each post you will see that the Blog  has not been a priority! We have been busy keeping up with orders as  well as adding new products to our ever increasing range. I have  promised myself that my blogging will improve both in frequency and  content but in the meantime for those who trawl through various blogs  please do not leave sarcastic comments about how thrilling or not so  thrilling you find mine, Thank you very much! 🙂
As you will be able to see on the website, the Post Boxes have been  added and have proved to be very popular with Brides to be as well as  those celebrating Anniversaries and Birthdays so if you would like one for an alternative celebration or occasion it is no problem at all. We print whatever is requested so you can use them however you like but if in doubt please just contact us with any queries.
"Amara"
Also added to the site is the very beautiful "Amara".  Available in just white or ivory she looks gorgeous plain or if you would like to add colour to compliment your scheme, you can choose from the 80 shades of ribbon available.
Matching Photo Albums and Post Boxes are also available to order, images may be missing on some products but please bear with us while we slowly update the website.
That is it for now, coming soon on the Blog is another Paper Memories product and a Wedding I have recently worked on.
Fabric Flowers
Well its been a busy past few weeks but it has definitely been worth it. You will see that following many requests we now have our own range of Wedding/Event Card Post Boxes to match with our Guest Books and Photo Albums!
These are each made to your own requirements and colours, we have standard wording for them but feel free to ask if you would like to have your own words printed and they are of course personalised with names, dates and just about anything else you would like added. The beauty of these is that they are delivered complete in sensible packaging and so your only effort is to take it out of the box…its that easy!
But it does not end there, new designs are on the way so if you are a fan of fabric flowers, check out "Amara". Made with satin ribbon and luxerious pearl & diamante embellishments we believe they are going to be very popular with Brides so keep your eyes open for this new design or better still ,find us on Facebook.
May 2013
Well it's a few weeks since we launched the new website and this is my first blog so it is only right that I dedicate this to Kate Toon, No.1 Copywriter on Google and Award winner whose competition for an SEO makeover I was lucky enough to win. I knew my DIY attempt at a website was not great but until then I did not realise how awful it really was and Kate, not one to mince her words, told me my website was.. well….unsaveable! So, as seems to be the norm with Kate, she went above and beyond for me, rather than a makeover she decided to build me a new website.
Since the website has launched I have incredibly taken more orders these past few weeks than I had in all the years my DIY job was alive!
It is hard when starting out in business, money is tight and you feel you have to do everything yourself, this experience has taught me that you can't do it all. You will at some point need expert help and advice, the hardest job is finding the right person for the job. Kate is based in Australia and I am in the UK but with the help of Skype the distance did not hinder us at all. So if you or anyone you know are looking for professional help to improve your website, your google ranking or require a copywriter then I would not hesitate to recommend Kate Toon.
The Future
We are not quite ready but there will be new products being added to the website in the very near future. My head is literally buzzing with creativity, new designs and ideas. Having been asked by so many Brides, Paper Memories will be able to offer you more in the way of stationery but if in the meantime you are looking for something in particular please ask.
Now the blog is officially active it will be updated on a monthly basis but you can also follow us on Facebook to keep up to date with news special offers and plenty of inspiration if you're planning a wedding or any other celebration.
Sarah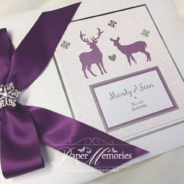 The regal and classic Stag & Roe stood together in the snow make the perfect couple for this Winter themed Guest Book.
Have this made in your own colour requirements and with over 80 shades of ribbon to choose from and with the addition of the silver and crystal snowflake embellishment it makes a striking book to wow your guests or a beautiful gift for that special couple.
Specifications
Large size 8″ x 10″ (20cm x 25cm)
Available in Cream or white
40 blank white pages (80 sides)
80 shades of ribbon are available, refer to colour chart
Matching white keepsake box
Can be personalised
Got a question?
If you have a question about any of the products you've seen on the Paper Memories website, please feel free to call us on +44 7580 402807,  contact us, or find us on Facebook.